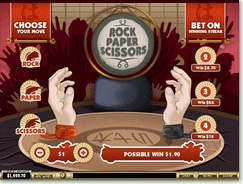 Rock, Paper, Scissors is based on the popular childhood game called the same name.
Basically in order to win you need to beat the person you are playing against. Choose one of three options of your hand signals which you think will beat your opponent. Winning is based on the hand you picked and the hand your opponent picked. The basic strategy is that Paper beats rock, scissors beat paper and rock beats scissors. An easy way to remember is that the paper covers the rock, the scissors cut the paper and the rock breaks the scissors.
Decide on a bet amount by adding and subtracting your amount to what you decide. The plus and minus symbols are found at the bottom left of the screen. If you lost the game, your bet amount is also lost. If both you and the computer do the same move then your bet will be returned to you. You will be paid 1.9 times your bet amount if you win.
Winning Streak Bet:
You are able to bet on a winning streak if you wish. Win as many games after the other in order for you to win the bet. You can choose from two to four matches. At the right of your screen you will find a symbol which you need to press if you wish to select one of the match options. If you draw you lose the bet.
Play Rock, Paper, Scissors At The Following Online Casinos:
More Arcade Games:
Around the World | Bonus Bowling | Derby Day | Dice Twister | Genie's Hi Lo | Heads or Tails | Jackpot Darts | Keno | Megaball | Penalty Shootout | Pop Bingo | Rock, Paper, Scissors | Rollercoaster Dice | Spin a Win