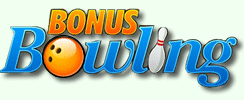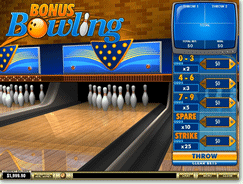 Feel like playing a game of ten pin Bowling, then Bonus Bowling is just the game for you. Prior to bowling the ball you are required to place your bet on the amount of pins which you guess will be hit over with the ball in two rounds. If you make a bet on hitting a strike then you could win big.
The main aim of Bonus Bowling is to correctly guess how many pins will be bowled over. Click on the plus and minus buttons to increase or decrease your wager depending on how lucky you feel. You are able to make a bet on whether a strike is achieved, or the number of pins that get knocked over, or a spare which means all ten pins in two rounds are knocked over.
Place any amount of bets you wish. When you are finished with placing your bet then click on the throw button to get two of the bowling balls thrown. If you achieve a strike, which is knocking down all ten pins using one ball, then the second ball will obviously not be thrown. Press the Throw button again to use the same bet again. Press Clear Bets to remove all prior bets made.
A special Game round is called the Golden Frame. If you achieve a strike while in the Golden Frame round, you will then win ten times your bet total. If the Golden Frame happens then an image of the words saying Golden Frame will appear on the top right of your screen.
Play Bonus Bowling At The Following Online Casinos:
SA Players: Omni Casino | Casino.com | Slots Heaven
More Arcade Games:
Around the World | Bonus Bowling | Derby Day | Dice Twister | Genie's Hi Lo | Heads or Tails | Jackpot Darts | Keno | Megaball | Penalty Shootout | Pop Bingo | Rock, Paper, Scissors | Rollercoaster Dice | Spin a Win