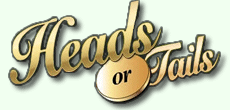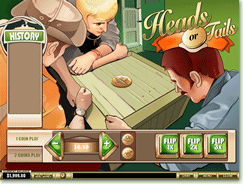 Heads or Tails Arcade Game is based on the classic game of tossing the coin and predicting which side the coin will land on.
The first thing you need to do is to select a bet amount you wish to play by press the plus and minus buttons to increase an decrease your amount. These buttons will be found at the bottom left of your screen. Press confirm once you have decided on an amount.
Choose an outcome of the coin of either tails or heads. This will be your bet and if it lands on your decision, you win.
Press one of the flip buttons of either the coin flipping once, twice or three times. If you have chosen the button which says flip x 2, then you are placing a bet that the result should appear two times in a row. If any of the flips there after is incorrect then you lose the bet.
x2 Coin Play
You are able to play using two coins in Heads or Tails. Simply press the Two coin play button. Select the outcome of both these coins. If you dont then it will be the same as playing the One Coin Play option. To go back to playing with One coin then simply press the One Coin Button again.
Play Heads Or Tails At The Following Online Casinos:
Casino.com | Europa Casino | Omni Casino
More Arcade Games: Heads and Tails
If you are looking for Heads and Tails Game - then go to Omni Casino who offer it in their portfolio of games. Just click on the Arcade and Keno Games tab
Around the World | Bonus Bowling | Derby Day | Dice Twister | Genie's Hi Lo | Heads or Tails | Jackpot Darts | Keno | Megaball | Penalty Shootout | Pop Bingo | Rock, Paper, Scissors | Rollercoaster Dice | Spin a Win