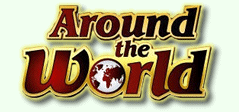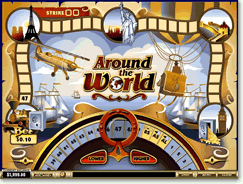 Around the World is a fun packed Arcade Game which is based on your bet that you made on the next spin, whether it is more or less than the previous one.
You are then able to move around the board if you correctly guessed the outcome. Travel all around the world by navigating your way between various special features and various levels.
Predict correctly whether the next number is greater or smaller than the spin before. Choose an amount on which you would like to bet before you begin playing. Spin the wheel and once it comes to a halt you need to click the plus or minus sign to predict whether the next spin will be more or less than the last. Not once does the same number come up one after the other.
If your prediction is correct you will progress to the next step with one level consisting of 6 steps. If you predicted incorrectly then you will receive a strike. If you have one strike already then you will lose your money as well as the game. If you reached the next level after completing 6 steps then the strike will cleared. Your bet will get multiplied if you have reached the next level without having a strike.
If you have reached the next level and you have a strike then your bet will not be multiplied. You can either cash out or keep playing before starting a new level. When you complete level four you will get paid out automatically and the game will end.
Play Around The World At The Following Online Casinos:
More Arcade Games:
Around the World | Bonus Bowling | Derby Day | Dice Twister | Genie's Hi Lo | Heads or Tails | Jackpot Darts | Keno | Megaball | Penalty Shootout | Pop Bingo | Rock, Paper, Scissors | Rollercoaster Dice | Spin a Win