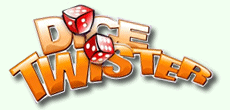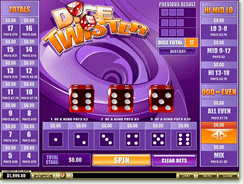 Dice Twister is a quick paced fun packed Arcade Game. You can place a number of bets all with their own chance of winning. You are able to place bets on things such as the total, the range, whether it adds up to an even or odd number, as well as the number of times a certain number will appear on the three dice.
Place your bet on whether the three dice will roll any of the bets made and what the outcome will be. Place your mouse over a similar bet area and press on the plus and minus arrows to decrease or increase your amount of your bet. The total of all your bets will be shown on the bottom of your screen. Each bet has different payout and is shown on the bet area close by.
Bets
Totals

The bet in which the 3 dice adds up to on the next roll. Place a wager on the numbers four to seventeen.

Mix, Even, Odd

Place a bet on whether the dice will equal an odd or even number or both.

High, Middle, Low

The bet that in the next roll the dice will add up to a certain range such as a low number, medium or high.

Numbers

Pick a number between one and six. Depending on how many dice will contain that specific number on it is how you will win. If there aren't any dice with that number on, then you have lost that bet.
One you have completed placing bets then press the Spin button. Once they have stopped rolling, then your bets are settled. Press Rebert to place the exact same bets for the next round.
Play Dice Twister At The Following Online Casinos:
SA Players: Omni Casino | Casino.com | Slots Heaven
More Arcade Games:
Around the World | Bonus Bowling | Derby Day | Dice Twister | Genie's Hi Lo | Heads or Tails | Jackpot Darts | Keno | Megaball | Penalty Shootout | Pop Bingo | Rock, Paper, Scissors | Rollercoaster Dice | Spin a Win