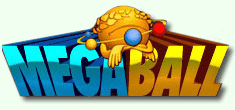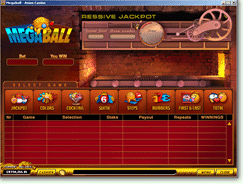 Mega Ball consists of 8 games, all with their own betting outcomes. Six balls get drawn every minute determining the different winning combinations. Play anything from one and ten different betting strategies in one game.
Take your pick of the 8 different games you can play which will be displayed on the left side of your screen. Every game has a unique betting strategy from the rest. Select a game you wish to play and read the instructions that follow. Decide on whether you wish to play one or more drawings of up to fifty duplicates.
All your bets that are active are shown in the middle of your screen. Click on any of the bets if you wish to change or remove that specific bet.
A countdown appears on the top of your screen and when there are only ten seconds left you are unable to place any more bets. The button stating "Confirm" will then disappear as well. Once it appears again, you may then place a bet.
Progressive Jackpot
The progressive Jackpot uses small percentages of every bet made to add to the pot. The jackpots amount will be shown on the top of your display screen. Play the "Jackpot" game to win the progressive jackpot and correctly predict the five balls.
Play Mega Ball At The Following Online Casinos:
More Arcade Games:
Around the World | Bonus Bowling | Derby Day | Dice Twister | Genie's Hi Lo | Heads or Tails | Jackpot Darts | Keno | Megaball | Penalty Shootout | Pop Bingo | Rock, Paper, Scissors | Rollercoaster Dice | Spin a Win