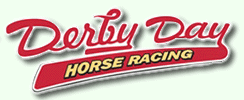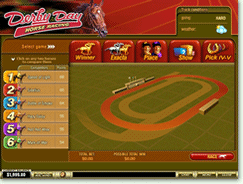 In the mood to spend your day at the horse racing, then this is just the game for you. Enjoy amazing fixed-odds as well as awesome cash prizes. Choose from a number of different patterns of betting such as choosing a winner, choosing who will come first and second, first, second and third positions and more.
Horses
In Derby Day you can choose between so many different horses. Press on the name of the horse you choose and compare it to another horse if you like. In the column labeled "Points" will show the form of the chosen horse, and if their points are high then the chance of the horse winning the race increases and the lower the payout will be.
Weather and Attendances
To find what the weather will be like or how many will be attending is shown on the upper right corner of your screen. This will affect the way the horses race in a positive or negative way and is similar from horse to horse.
Payouts will be calculated according to horse point amounts, attending and weather. If the payout for a horse is below 1, it will display on a red background. Bets for these horses will not be allowed. Bets
A table which displays all the bets you have mae for that race will be seen in the middle of the screen. No more than nine bets are allowed to be placed for a race. Press on the X to cancel your bet.
Various Types of Bets You Can Make:
Show

When your chosen horse comes in first, second or third place then you win.

Winner

When your chosen horse wins the race, you win.

Place

When your chosen horse comes in first or second place then you win.

Pick 4 - 5

Choose which four or five horses rank in which position in the correct order. It is more difficult to predict the position of five horses but pays out better than four horses.

Exacta

Choose which two horses will finish in first and second place in the correct order. This payout is higher as it is difficult to predict.
To start the race after placing your bets you need to press the Race button. If any of your horses win then you will get paid out according to the payout table. More than one win will be added up.
Play Derby Day At The Following Online Casinos:
Euro Grand Casino | Omni Casino
More Arcade Games:
Around the World | Bonus Bowling | Derby Day | Dice Twister | Genie's Hi Lo | Heads or Tails | Jackpot Darts | Keno | Megaball | Penalty Shootout | Pop Bingo | Rock, Paper, Scissors | Rollercoaster Dice | Spin a Win