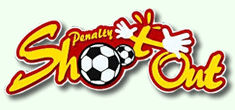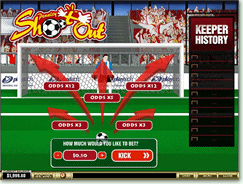 Get past the keeper to win in Penalty Shoot-Out.
Choose one of the five positions that the ball would land in the nets. Get the ball past the keeper and you win. Depending on where you chose the ball to land will change your chance of winning. A useful tip is to aim at the bottom of the nets which is where you will most likely score.
Picture yourself as the striker and you need to get that ball past the goalkeeper who is known to stop goals. Decide on an amount you wish to bet as well as the direction you choose to kick the ball. Press Kick to get the striker to kick the ball.
If the goalkeeper blocks your goal then you have lost. If you happen to get past the goalkeeper and score a goal you wll then win the wager amount which is then multplied by the amount which is on the arrow you selected for the direction of the goal.
Play Penalty Shoot-Out At The Following Online Casinos:
More Arcade Games:
Around the World | Bonus Bowling | Derby Day | Dice Twister | Genie's Hi Lo | Heads or Tails | Jackpot Darts | Keno | Megaball | Penalty Shootout | Pop Bingo | Rock, Paper, Scissors | Rollercoaster Dice | Spin a Win