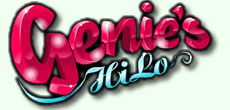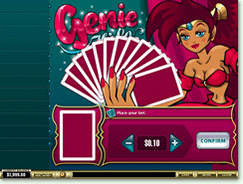 In Genies Hi-Lo you are required to correctly predict whether the next card is lower or higher than the card drawn prior. You may also place bets on the colour you think will come up being either black or red.
This game is played using one deck of cards. Decide on a sum you wish to wager and then press the Confirm button. Once you select a card then the Bet Box will be found on the bottom of your screen where you may place your bet.
You are allowed to make two bets. One of the bets being whether the following card will be lower or higher than the previous and the next bet predicting the correct colour of the card. When you play you are able to place both these bets or only one at a time. If the bet you have made is less likely then the payout will be greater if you do win. Press the confirm button and select a card. If your bet is incorrect the game is over and you have lost your winnings. If your bets are correct then you have won. At the end of each game you are able to cash out your winnings made thus far or continue playing by betting the winning amount.
The previous card will be shown on the left of your screen if you have decided to continue playing. You are able to either place both the bet options or only one of them. Press the Confirm button and choose a card. Carry on playing until you have chosen all the 11 cards correctly. An Ace is calculated as One.
Game Record
The Game Record is found on the left of your screen and is basically a history of all the previous cards drawn as well as your amount of winnings. This winning amount is based on the total of the entire game and not just the level you are playing.
Play Genies Hi-Lo At The Following Online Casinos:
More Arcade Games:
Around the World | Bonus Bowling | Derby Day | Dice Twister | Genie's Hi Lo | Heads or Tails | Jackpot Darts | Keno | Megaball | Penalty Shootout | Pop Bingo | Rock, Paper, Scissors | Rollercoaster Dice | Spin a Win