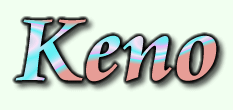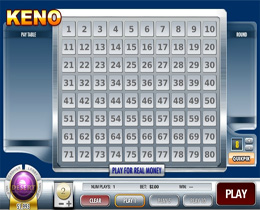 In the game of Keno you are presented with a table of 80 numbers.

You will be betting on which 20 of the 80 numbers will be picked by the software upon pressing the play button.

You do have the option of using quick pick to select your numbers for you.
You are The software will allow you to quick pick or self-pick up to 15 numbers to bet on. If you have your own special numbers you want to play you have that option, as well.

You will just click on the numbers you wish to select, then press play. You have the choice of changing between quick pick and self pick or using a combination of the two anytime during the game.

Once you have placed your bet and the game is in progress; the software will then randomly select 15 numbers.

By clicking on a number on the table it will light up as a white square. This is true whether the numbers are self-picked or quick-picked. If there is a match then a blue bubble will appear on your white square.

The numbers the computer select, if not matched will appear as a gray bubble. This helps with any clarification of winnings and losses.

There is a payout chart on the left of your screen that will light up telling you how many of the 80 numbers your play matched. The possibilities of winning are approximately 96.54%.

Compatible with both Mac and Windows, Rival Keno offers simple navigation, and adjustable sounds, speed and screen size.

There are 2 different Versions of Keno at Rival Casinos - The Traditional Version and the Vegas Jackpot Casino Version.
Play Rival Keno Version At The Following Online Casinos:
Desert Nights | Superior Casino
Please note that South African and USA Players are accepted at the above Casino.
More Arcade Games:
Around the World | Bonus Bowling | Derby Day | Dice Twister | Genie's Hi Lo | Heads or Tails | Jackpot Darts | Keno | Megaball | Penalty Shootout | Pop Bingo | Rock, Paper, Scissors | Rollercoaster Dice | Spin a Win